The design department of the metal structure plant performs the structural engineering drawings in-house. The staff are accomplished designers with more than 10 years of experience. The design is carried out with the Tekla Structures software, which creates supremely accurate and in-depth 3D models of future buildings and constructions from metal structures.


The 3D models are created on the basis of the KM stage drawings. Having at hand the Tekla 3D models, it has become far easier and faster to manage the building projects.
Sequence of operations:
building a 3D model;
automatic numbering of assembly elements and units;
analysis and verification of numbering;
unification of assembly elements;
drawing designs of: individual parts, assembly elements, installation diagrams.
The overall 3D model of the building is divided into stages to indicate the installation sequence. A set of documents is further formed and transferred to the production department. Then, based on it, metal structures are produced. The documents include the following:
process flow chart;
part drawings;
assembly drawings;
.dstv files for CNC-controlled lines.
The obtained data is processed, entered into the database and the cutting program, and, after that, launched into production.
The final stage of the structural engineering drawings development is to print installation diagrams and to transfer them to the installation organization.Then, based on these documents, consistent and accurate installation of metal structures is performed.
PRODUCTION PLANNING AND MANAGEMENT DEPARTMENT
The specialists of the production planning and management department schedule production, monitor the fulfillment of orders using visual inspection tools.
The following is conducted in the department:
sequence of delivery by phases;
production orders;
production planning;
production management.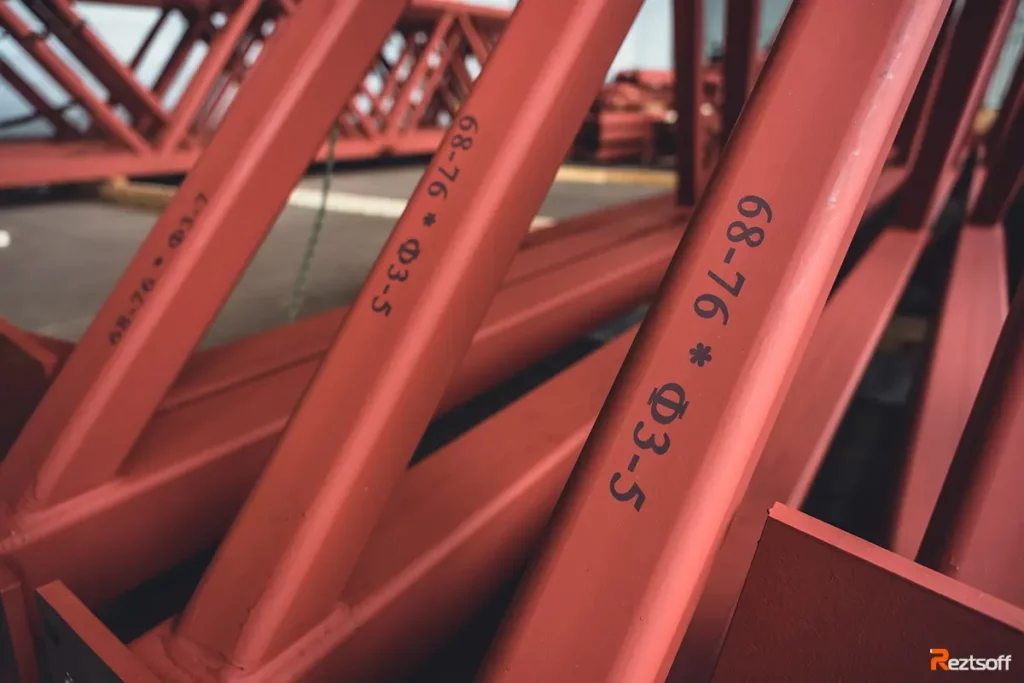 The shop is designed to provide welding assembly stations with the necessary blanks.
THE BLANKING SHOP PERFORMS:
cutting of rolled metal in accordance with cutting maps;
transfer of blanks and rolled metal to assembly and welding shops.
First, the metal is delivered to the warehouse, then it is put into the workshop in compliance with the work orders. Next, blanking operations are carried out:
oxygen and plasma cutting on CNC CNCSG300 and VOORTMAN V304 thermal cutting machines, with the tables 2000×12000 mm and a portal height of 2200 mm; these are designed to cut parts of any complexity from sheet metal rolled products with a thickness of 4 to 100 mm;
sawing on KMT 700 KDG and BOMAR belt-sawing machines from 10 ° to 90 ° with profile height up to 1150 mm and its width up to 900 and 400 mm, respectively;
drilling holes on blanks on CNC drilling machines VOORTMAN V600, providing drilling of rolled products up to 30 meters long with accuracy up to 0.1 mm and diameter from 19 to 28 mm.
ASSEMBLY AND WELDING AREA
Assembly and welding areas allow the general assembly of metal structures of building elements and structures, such as load-bearing beams, trusses, rigid frames up to 36 meters long and the weight of the assembly unit up to 10 tons.
Welding stations are equipped with semi-automatic welding machines. Welding equipment used in production allows to meet any requirements for both the accuracy and quality of welding and the thickness of the welded structures.
For each group of structures there is a specific place for assembly and welding. This technology allows to assemble structures to a high standard. The responsibility of some assemblers is to assemble structures according to structural engineering drawings for 'tacking'. Others are welders who only weld structures and move around the workshop with welding machines.
WELDED BEAM MANUFACTURING AREA
This area manufactures welded I-beams of constant and variable cross-section. The beam (I-beam) is made of individual cut sheets of hot-rolled steel. Metal from the warehouse is delivered to the workshop and supplied to the sheet cutting line. Then blanks are supplied to the assembly line, where they are clamped by hydraulic grips and are wended with welding devices using semi-automatic welding in carbon dioxide medium and automatic submerged-arc welding.
FINISHED METAL PAINTING AREA
The paint area of the finished metal structures performs mechanical cleaning and painting of the finished metal structures.
The site is equipped with a blast cabinet designed to clean the surfaces of welded products before painting.
High-pressure devices are used for airless application.
After painting the products are packed and shipped.
The Reztsoff metal structure plant has its own certified nondestructive inspection laboratory (LLC 'Master Class'), which controls equipment and materials during manufacture, construction, installation, repair and reconstruction of industrial facilities. Control works are carried out both on the territory of the metal structure plant and outside.
The laboratory, which is independent, performs control in the field of industrial safety at work and construction.
Control methods
Visual and measuring inspection. It is a fairly simple method. It serves, however, as a highly effective means for preventing and detecting defects. As a rule, only after visual inspection and correction of unacceptable defects, welded joints are subjected to inspection by other physical methods (ultrasonic inspection, magnetic inspection, etc.) to identify internal and surface defects.
Ultrasonic flaw detection. It allows searching for defects in the material of the product by emitting and accepting ultrasonic vibrations reflected from internal discontinuities (defects), and further analyzing their amplitude, arrival time, shape and other characteristics using special equipment – an ultrasonic flaw detector. Welds are the most widespread application of ultrasonic flaw detection. This is achieved due to the mobility of the ultrasonic installation, high control efficiency, high accuracy as well as high sensitivity to any internal and surface defects of welds.
X-ray flaw detection. The laboratory also conducts chemical analysis with an X-ray fluorescence analyzer NITON XL2 in order to confirm the brand of alloys at the input control stage.
Employees
The inspection is conducted by certified employees with 'Qualification Certificates' and admitted as specialists of nondestructive inspection.
Tools:
a set for visual and measuring control;
"MASTER" ultrasonic A1212 flaw detector;
radiographic flaw detector.
Based on the results of the laboratory tests, a conclusion confirming the quality of welded joints is issued.